TCL Nxtpaper 10s: two-minute review
The concept behind the TCL Nxtpaper 10s is very noble – there's 10 different layers on its 10.1-inch display, with a specific focus on reducing eye strain. This means that users can focus for longer without getting dry eyes. TCL has continued to work on this layered display, having just announced the TCL Nxtpaper 11 coming in May 2023 in Europe before releasing in other markets in the following months.
While the main feature of the TCL Nxtpaper 10s is its layered display, it also seems to be the tablet's biggest hindrance. We applaud TCL's work to create a display that filters out harmful blue light, however it comes at the cost of picture quality on this tablet. The matte finish looks nice, but you aren't going to get sharp details with this tablet. These layers also seemingly impact the image quality of the front camera as it appears to be sitting under at least one of these filters. Video calls and images taken with this 5MP camera display a noticeable fuzziness.
Still, the front camera is very useful for conference calling, making this device a great option for those who might be working or studying remotely, or just want to stay in touch with loved ones. There's also a rear 8MP camera that, thankfully, doesn't suffer from the same issue as the front, however the tablet won't sit flat on a desk without some kind of case due to this camera's raised housing.
Given that TCL has targeted this device towards students (in Australia at least), the picture quality isn't that big of an issue as it's more likely to be used for standard schoolwork. Additionally, the tablet comes with the option to be used in 'Laptop Mode' when paired with its typecase (included in the box in Australia but sold separately in the UK or US). The display orientation automatically adjusts to landscape (horizontal) as soon as the tablet is placed in the typecase, with full touchscreen functionality also available.
Two other modes offered on the TCL Nxtpaper 10s are also part of the eye-care goals set out by TCL. There's the option to yellow the screen to even further reduce eye strain with Eye Comfort mode, alongside Reading Mode which adjusts the screen to greyscale. Paired with the matte finish of the screen, Reading Mode makes an attempt at mimicking an ereader display to appear like a page out of a book. It doesn't impact the display of books or text much, though it will add a grey hue across the screen, making reading comics or graphic novels on the Nxtpaper a charm.
Another feature of the TCL Nxtpaper 10s is its exceptional battery. If you're a student, you're going to get your day's worth out of it. For more casual users like myself, I found I was able to squeeze out a decent amount of time while binge-watching shows and sitting in on a video call.
While it's certainly not the perfect device, you are getting good value out of the TCL Nxtpaper 10s. Price wise, it's more expensive than the Samsung Galaxy Tab A8 but cheaper than the Apple iPad (2021). If it's a worthwhile Android tablet you're after, it's hard to recommend the TCL at its price point as cheaper options are available, although its focus on eye care makes it a tempting device for parents of young children who use a tablet for both study and relaxation.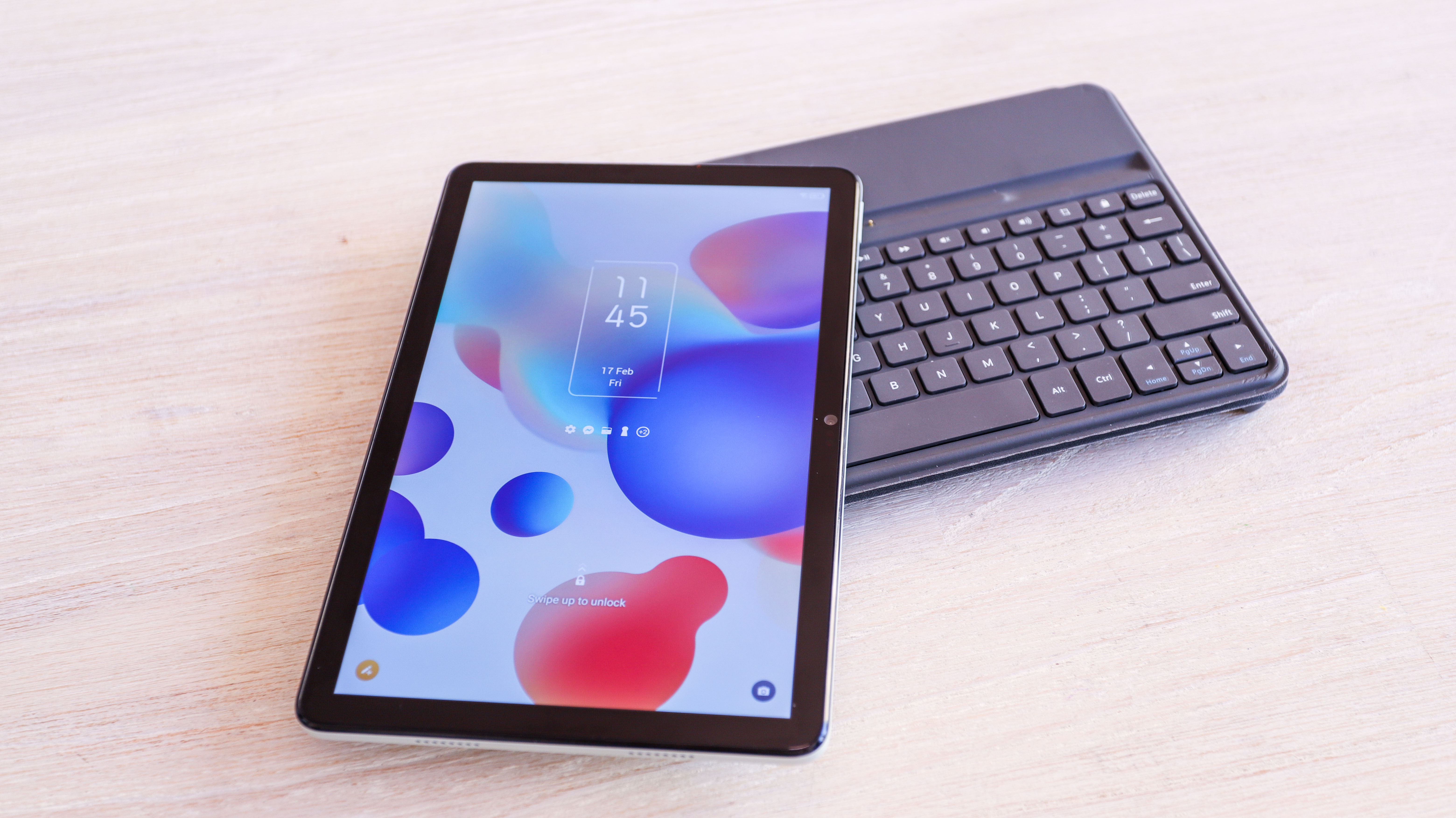 TCL Nxtpaper 10s: price and availability
Originally announced January 2022
Priced at £275.59 / AU$499; not officially available in the US
Included accessory determined by region
While the TCL Nxtpaper 10s was announced back at CES 2022, it took a little longer to go on sale in different markets. In fact, it's still not widely available, although you can purchase it right now from major retailers in the UK and Australia. Its current retail price is £275.59 / AU$499, though it comes with a different accessory in each region. In the UK, for example, you'll get it with a passive T-Pen included, while it ships with its own typecase in Australia. In the US, the tablet is only available through third-party sellers, for around $399. 
As mentioned earlier, this price point puts it between Samsung's budget tablet, the 10.5-inch Galaxy Tab A8 at $329.99 / £219 / AU$379, and the 10.2-inch iPad (2021) retailing for $329 / £369 / AU$549, both with 64GB of storage. 
Comparing apples with apples, the TCL Nxtpaper 10s is directly comparable to the Samsung Galaxy Tab A8 – both run Android 11 out of the box but the latter can be upgraded to Android 13, while the TCL can only go to Android 12; they both come with 64GB of upgradable storage, although the Galaxy Tab A8 supports up a 1TB microSD expandable storage while the Nxtpaper 10s only supports up to 256GB; and both have the same camera specs.
While you could argue the additional cost comes from the layered screen and included accessories, it's a bit difficult to justify the £56.59 / AU$120 price difference when the Samsung alternative has a brighter (albeit potentially harmful) screen that's better for streaming media.
Additionally, the TCL Nxtpaper 10s isn't that much cheaper than Apple's 10.2-inch iPad. You only need to spend an additional $70 / £93.41 / AU$50 to pick up the more premium device, and if you're already locked into Apple's ecosystem, it's the obvious choice.
Specs of TCL Nxtpaper 10s review unit
Price: £275.59 / AU$499 (around AU$399 in the US)
Operating system: Android 11
Chipset: Octa-core MediaTek MT8768
Memory: 4GB
Storage: 64GB upgradable storage
Display: 10.1-inch
Weigh: 490g without the case
Battery: 8,000mAh with USB-C charging
Cameras: 8MP rear camera and 5MP front camera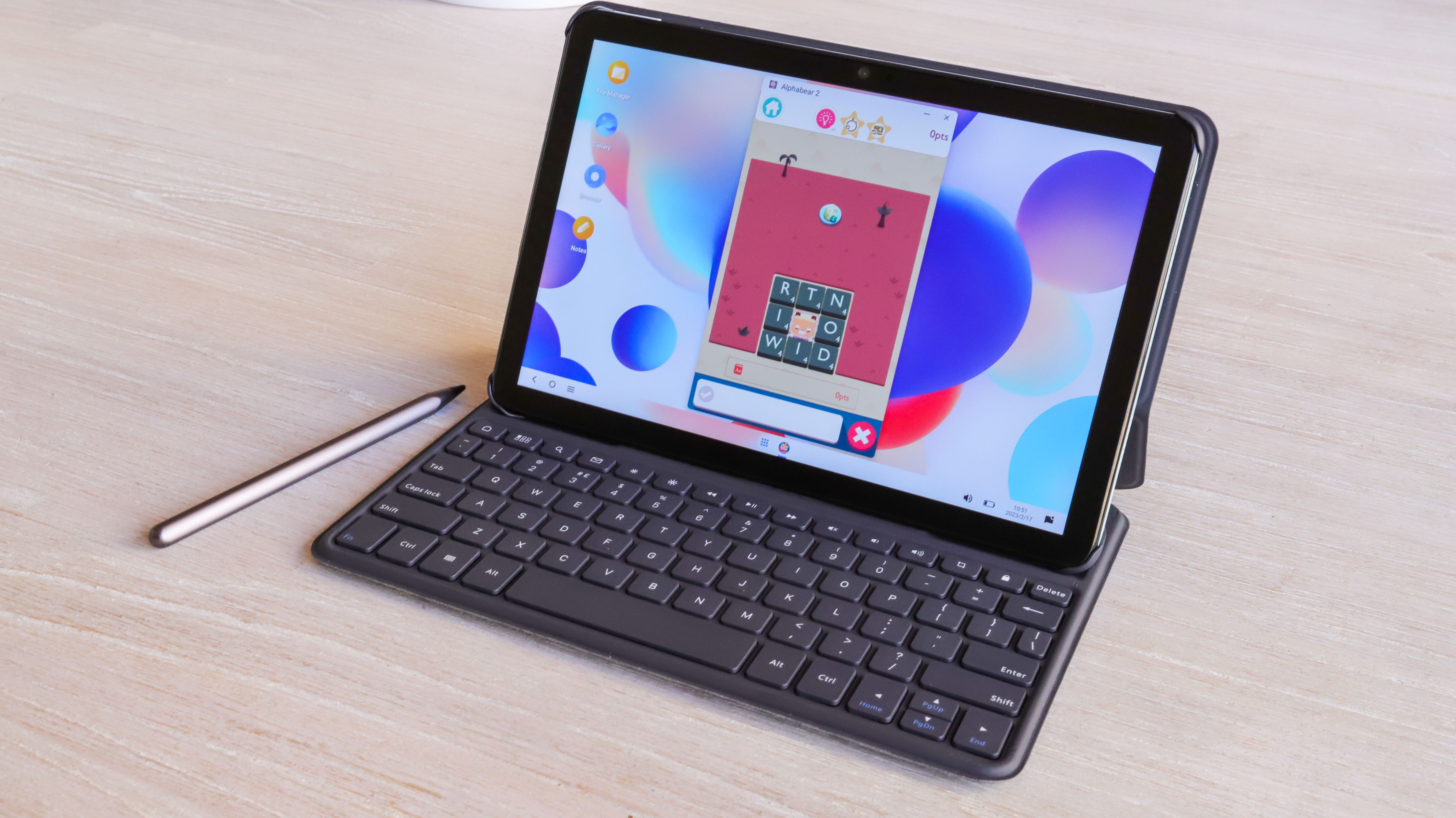 TCL Nxtpaper 10s: display
10.1-inch screen
Several filters to filter blue light
Layers affect picture and front camera quality
Offering a 10.1-inch display, the TCL Nxtpaper 10s is only marginally smaller than the 10.5-inch Samsung Galaxy Tab A8 and the 10.2-inch 2021 Apple iPad. 
The headline feature here, as we've mentioned before, is the 10-layer display designed to promote eye health. This results in a matte screen that, while it looks nice, reduces sharpness, with everything on screen appearing slightly fuzzy. It's not a huge issue, but is noticeable when you're used to your smartphone's sharper screen or another tablet. The layers also impact the image quality of the front camera, so you'll appear slightly distorted while on a video call.
While watching shows such as The Last of Us, this display impacts the details on the screen, especially during darker sequences. So if you're looking for a tablet to stream videos on, you might need to look elsewhere. While its focus on eye care is admirable, it does feel like TCL is limiting the reach of this tablet to just students, and anyone else looking for an affordable option might be disappointed by picture quality.
To complement the eye-care goal, there's also the option to warm the display with an Eye Comfort mode. This filters out even more blue light, causing the display to slightly yellow while still keeping most of its color profile. While not unique to the TCL Nxtpaper 10s – several devices from laptops to phones offer a similar setting – it's still a welcome inclusion, especially for students who might find themselves working on assignments well into the evening before bed.
Alternatively, Reading Mode aims to offer a book-like experience, although I found this mode ultimately forgettable. With the display already mimicking the matte-like appearance of paper, this gray-scaled option didn't do much in changing how the text in books appeared on screen. If you're a fan of comics and graphic novels, though, this mode will likely suit you as it doesn't ruin the colors, just adds a shade of gray to kill the screen brightness a little.
Overall, as the main unique selling point for the TCL Nxtpaper 10s, the display is a little disappointing, though it's important to keep in mind that I'm not the target audience for the tablet. Younger users might not have an issue with the lack of detail in the display, plus parents might prefer a tablet that tries to reduce eye strain.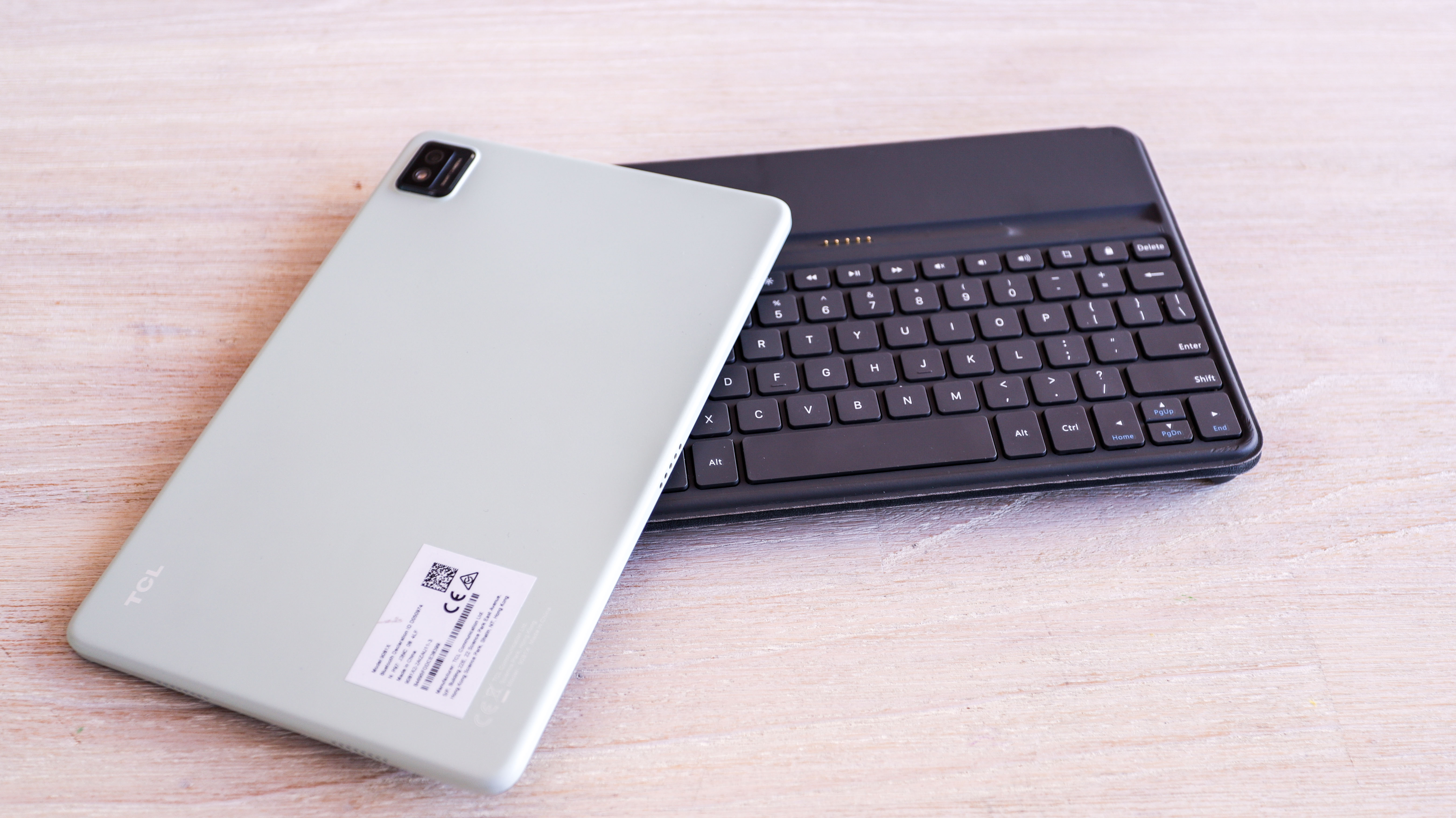 TCL Nxtpaper 10s: design
Clean design with pastel rear chassis
Dual speakers and microSD card tray
Camera bump doesn't allow the tablet to lie flat
The TCL Nxtpaper is a nice-looking device; in fact, my review sample was a lovely pastel green chassis and it was easy to fall in love with the design. There's nothing standout here from other tablets – except for the obvious matte look to the screen – but all its buttons and ports are neatly laid out.
Besides the 5-pin port for the keyboard on the lower longer bezel, there's the USB-C port for charging and connecting it to a PC, as well as a secure tray for a microSD card that's only accessible with a push pin. There's no 3.5mm audio jack, so if you want to connect it to headphones, Bluetooth is your best option. It does have dual speakers with volume controls via a button on the top small bezel. The power button is located near the USB-C port, and when the device is in its case, both of the extruding buttons are barely visible.
One noticeable annoyance in its design is its rear camera bump which doesn't allow the tablet to lie flat on a table. If you want the TCL Nxtpaper 10s to not wobble when on a desk – while using it to write or draw, for example – you're going to need to invest in a case.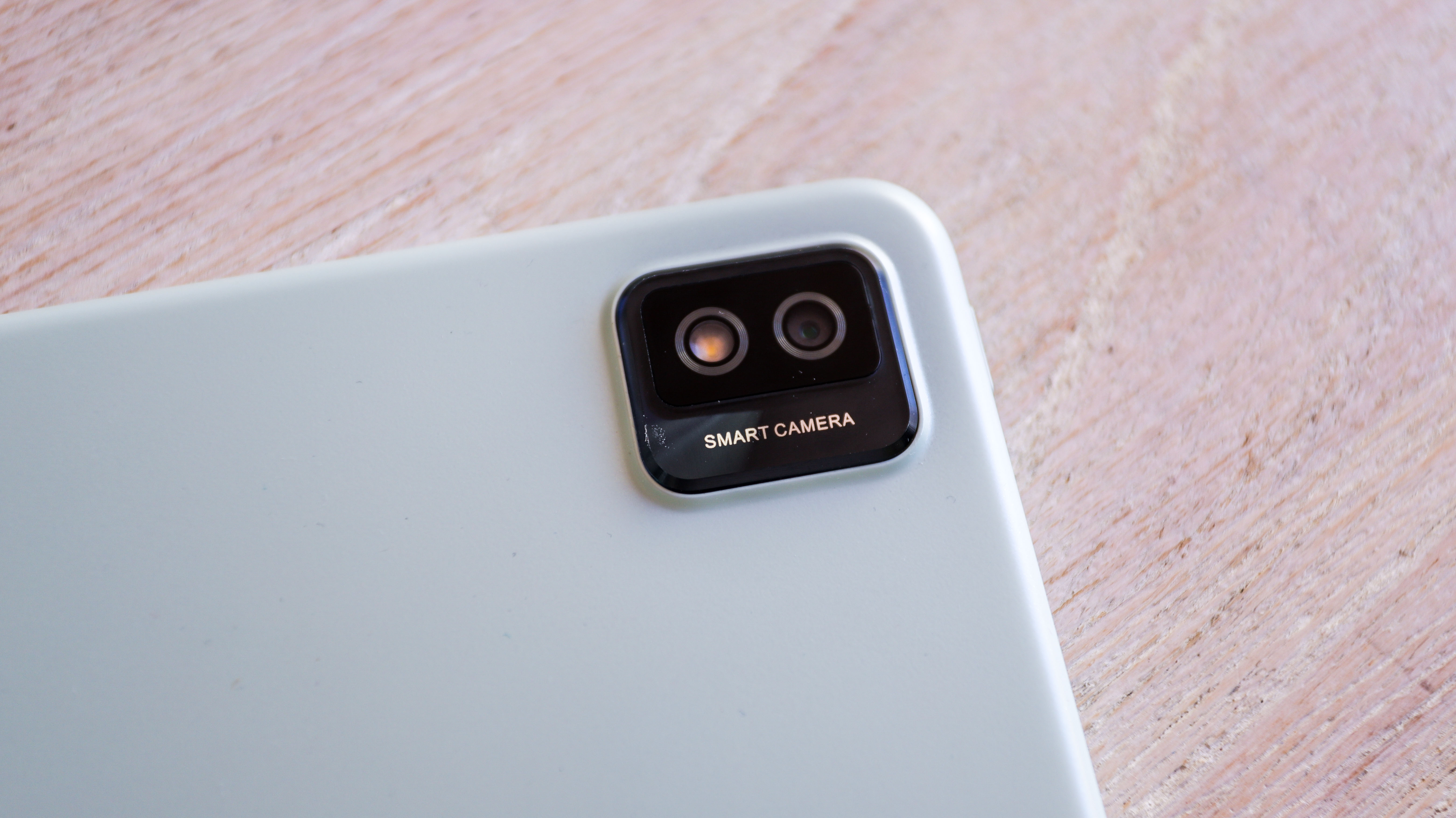 TCL Nxtpaper 10s: features
8MP rear autofocus camera
PC Mode for use with the keyboard
Other than its focus on eye care, TCL is keen to highlight its PC Mode – which is why a typecase is packaged with the Australian version. When you hook the keyboard up to the device through the 5-pin port it'll ask if you want to switch to PC Mode. I found this feature super handy, however the same can't be said for the reverse. When removing the keyboard, it won't prompt you to return to tablet mode, and you'll have to search for the button to do so. Thankfully, it's not too hard to find on the app screen, but it would be much more convenient if the device detected this mode swap in the same way as the former.
As for using the keyboard – which is integrated into a folio, allowing you to conveniently sit the device up – I found it quite uncomfortable to type on, finding the keys too small despite having slim fingers. Its compact size might suit smaller hands, which is perhaps fine for the target audience of younger students, but adult users may find it comparatively cramped. Compromises have been made on the keyboard, resulting in a one that offers low resistance and noisy clack that can have an impact on typing accuracy, especially when combined with its compact design.
At the time of writing, I wasn't able to test the T-Pen that comes with the device in the UK, but I was provided with a basic stylus and found it more convenient to navigate the touchscreen compared to my fingers. That, however, is a personal preference and no fault of the tablet itself.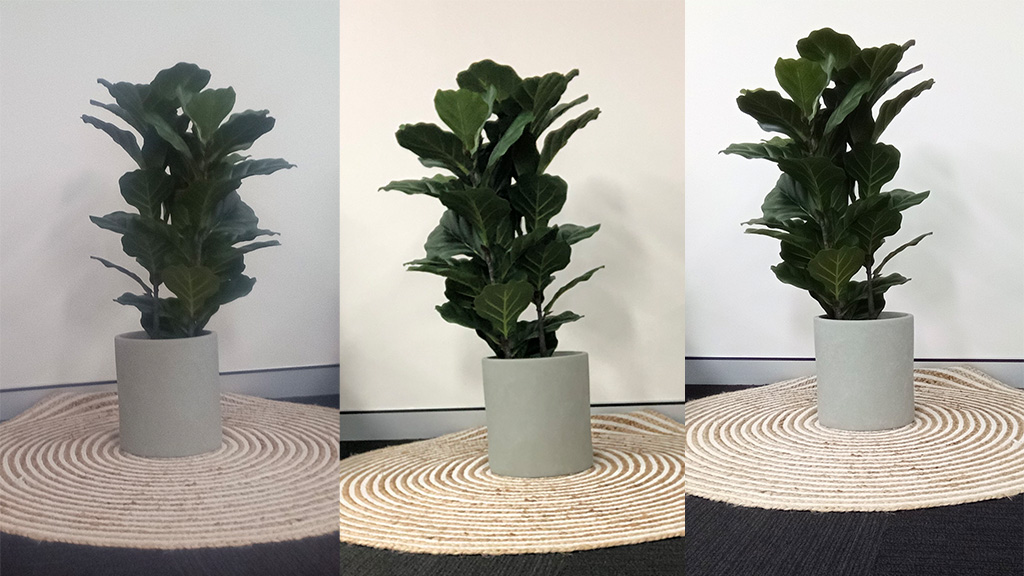 Also as mentioned previously, there's two cameras on this tablet, an 8MP rear optic with autofocus and a 5MP front snapper. While the image quality from the rear camera isn't too bad, I wasn't very happy with the results from the front-facing lens. 
Video calls to friends and family made me appear slightly distorted, while photos I took looked hazy. While I wasn't expecting a lot from a 5MP sensor, it seems as though one or more of the screen's many filters might overlay the camera and that could be what deteriorates the image quality further.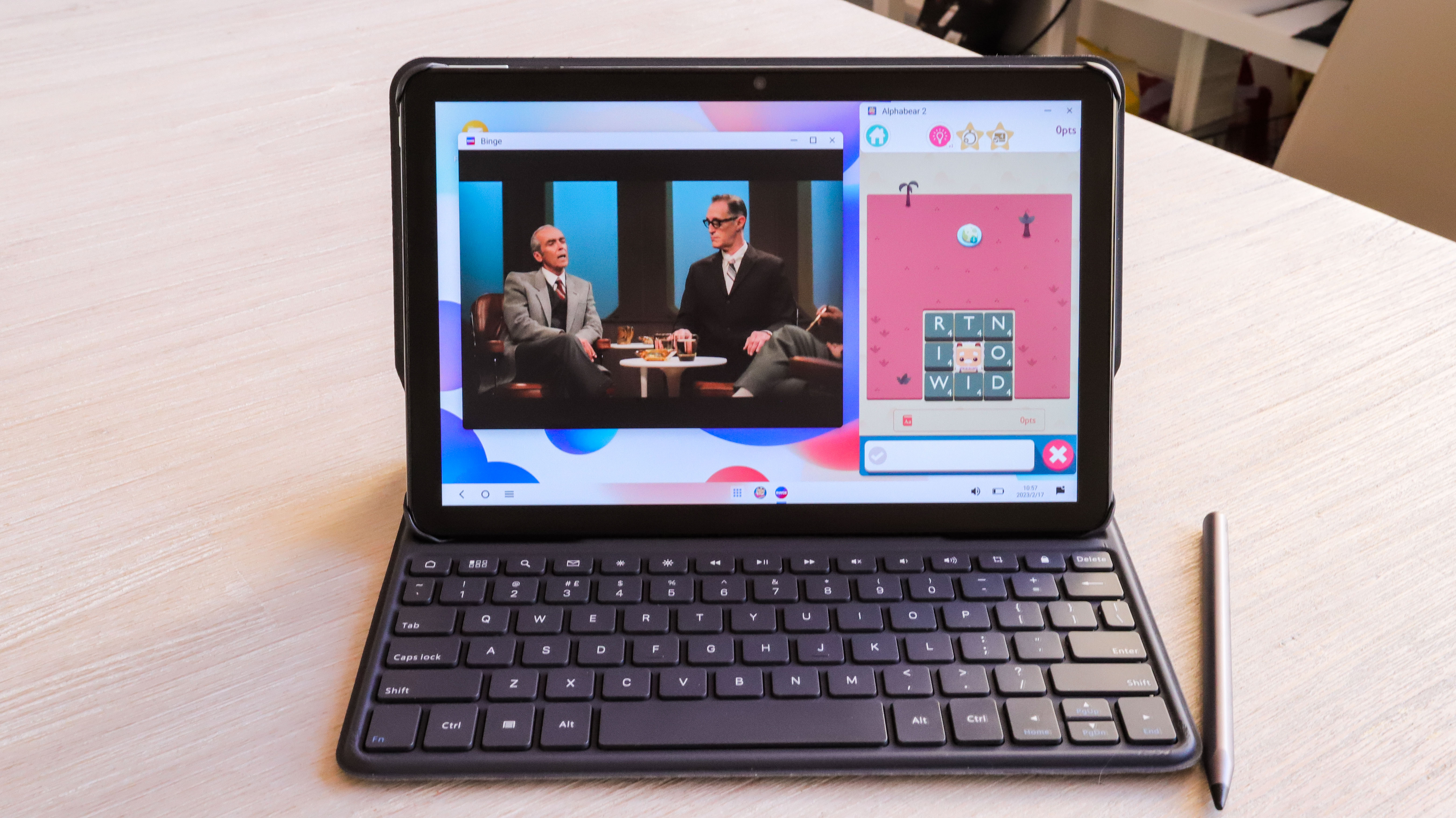 TCL Nxtpaper 10s: performance
Operates on Android 11
Access to the Google Play Store
Packed with bloatware, reducing storage and performance
The TCL Nxtpaper 10s comes with Android 11 already installed, though you can update it to Android 12. The operating system is clean and easy to move through, with three touch buttons on the bottom of the display and a search bar on the home screen to help with navigation. Finding quick buttons is also super easy – simply swipe down from the top of the device and you'll find settings such as the volume controls and different display settings, including the Eye Comfort and Reading modes, as well as Bluetooth controls, airplane mode and more.
The overall look of the home screen is clean, as you'd expect from any Android device. However, out of the box, you'll find around 18GB of storage is already taken up by the OS and pre-installed apps. That means about a third of the device's storage is already gone – 5GB of which is just the apps, and they're hard to find unless you have a dig through the storage details.
While this did slow down the performance slightly as I added more files and apps, the tablet repeatedly asked if I wanted to clean up space and memory on the device, though I found it mostly focused on closing background apps.
While the MediaTek MT8768 processor under the hood of the Nxtpaper 10s is an entry-level chipset, I found it worked admirably even when I was running several apps together. For example, I made video calls while also streaming content on the tablet, and had some other apps (including mobile games) running in the background with absolutely no hiccups.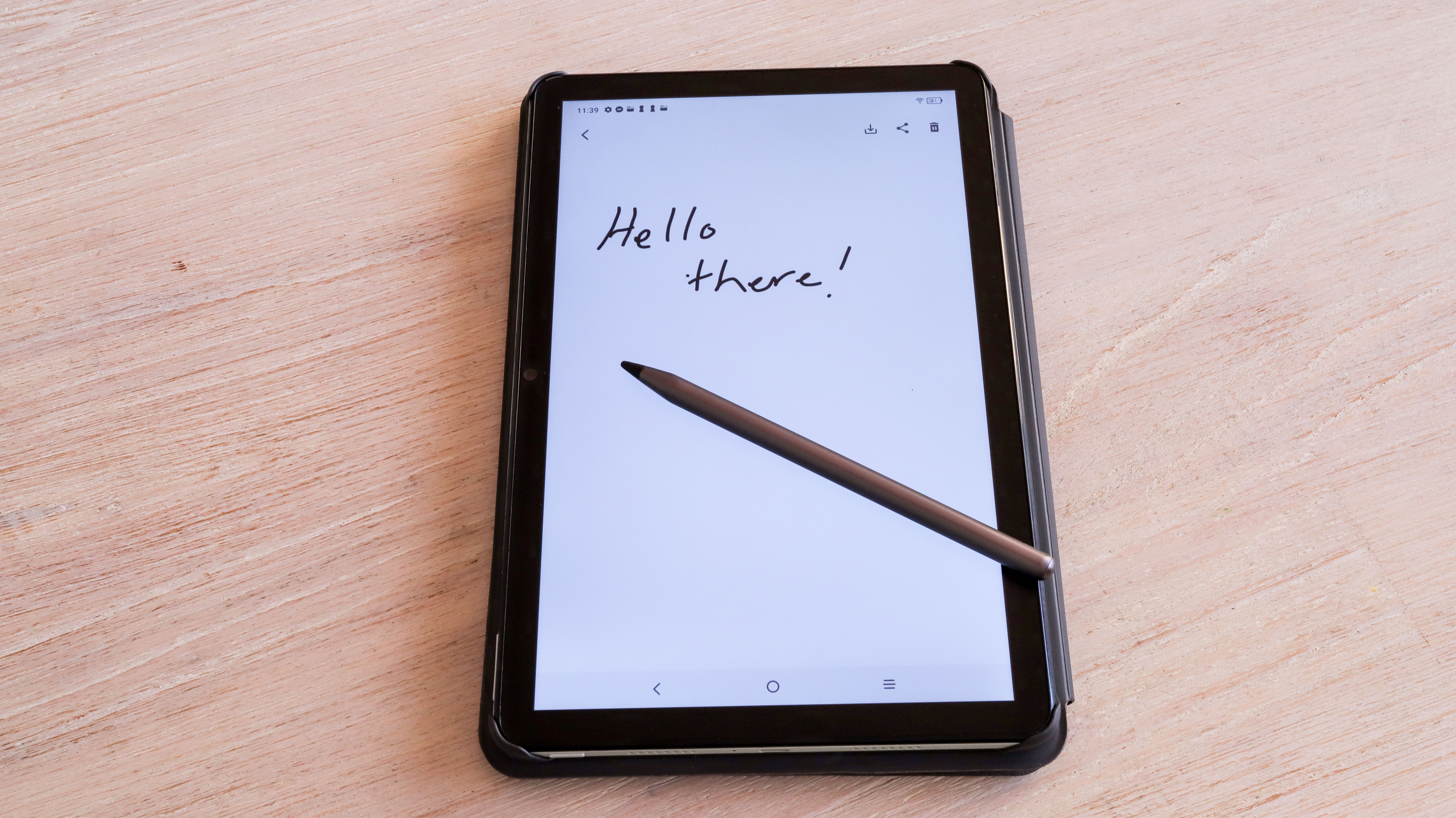 Despite having dual speakers, the volume on the tablet isn't too loud, and I found the experience of listening to music and watching videos better with wireless headphones connected.
While TCL in the UK is clearly marketing the Nxtpaper 10s as a writing device, the Australian branch of the company is keen to highlight its PC mode. Either way, the device works admirably although the writing experience isn't the best.
Curiously, TCL claims that most digital pens should work with the tablet, but we tried four different options (albeit all proprietary models for other brands) and none worked. Instead, I was sent a standard TCL pen to try writing and doodling on the device, which worked fine, although it didn't quite feel like writing on paper as TCL claims it ought to be. I tested this in both the included notes app and a free drawing app, and had the same experience between them.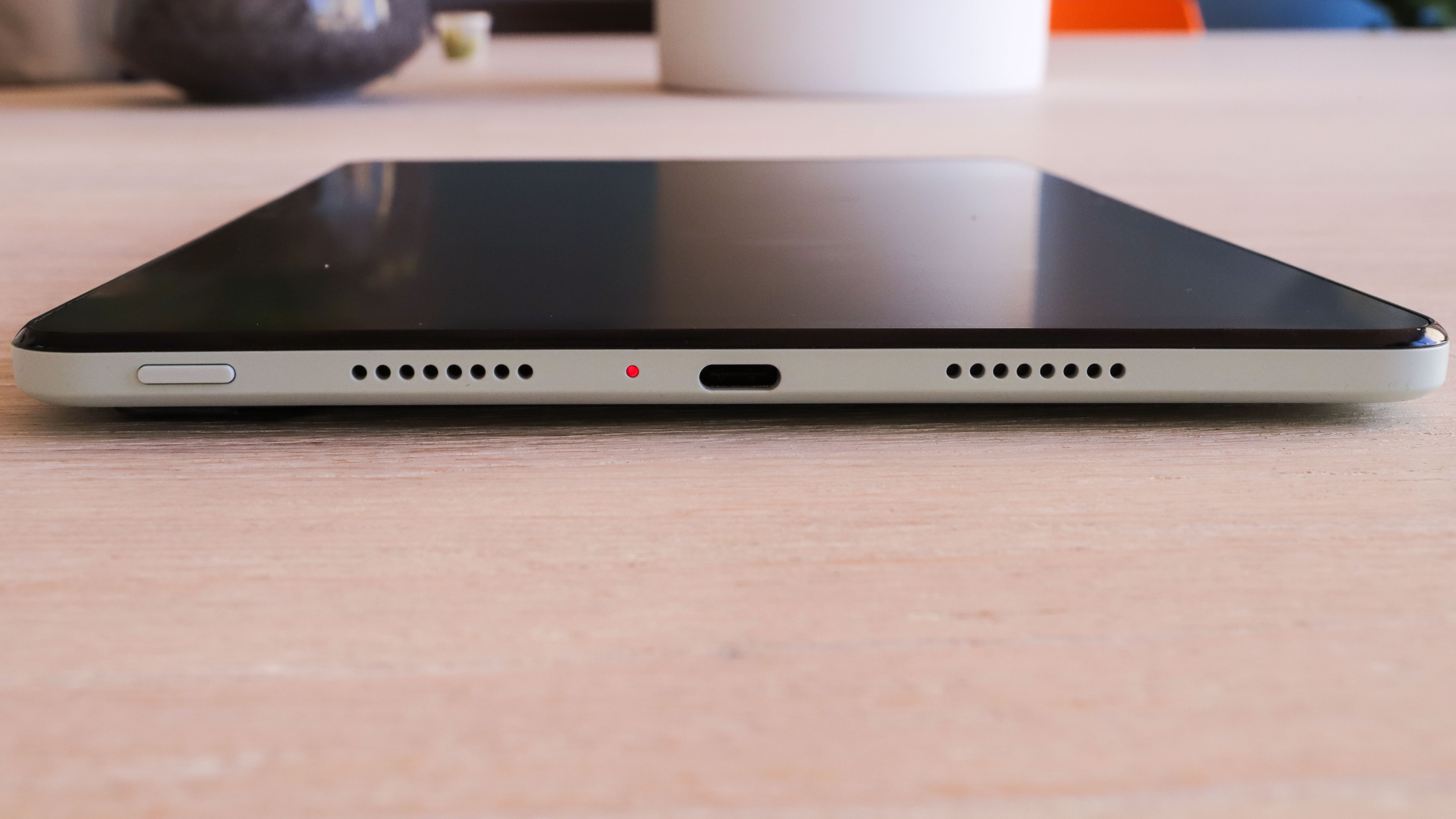 TCL Nxtpaper 10s: battery
8,000mAh battery
Up to 6 hours with video and other apps
Around 2.5 hours for a full charge
The TCL Nxtpaper 10s carries an 8,000mAh battery, larger than the Samsung Galaxy Tab A8 and smaller than the 2021 version of the Apple iPad.
I sat on a video call for over 3 hours after the device was at 96% charge while also switching between other apps, including watching YouTube videos and scrolling through Facebook. By the time I finished up that call, the battery had reduced down to 46%. This was with the brightness turned completely up but Bluetooth turned off. This gives an estimate of 6 hours of battery life while watching videos on the device. Comparatively, the Apple iPad (2021) gives roughly 10 hours of battery life between charges when being actively used, but it does have a larger capacity battery.
While that might not seem like a very long time, when used for school work or study, you're going to get a minimum of 6 hours out of it, which will cover most of a standard day. I found with minimum use of the device after fully charging, its battery barely dropped below 90% after a day.
Moreover, given the high capacity of the battery, it tops up quite quickly as long as you have it plugged directly into a wall power socket. I found that in half an hour, the device recharged by 20%, so it'll take around 2.5 hours to fully juice up from empty. In short, battery life here is quite impressive.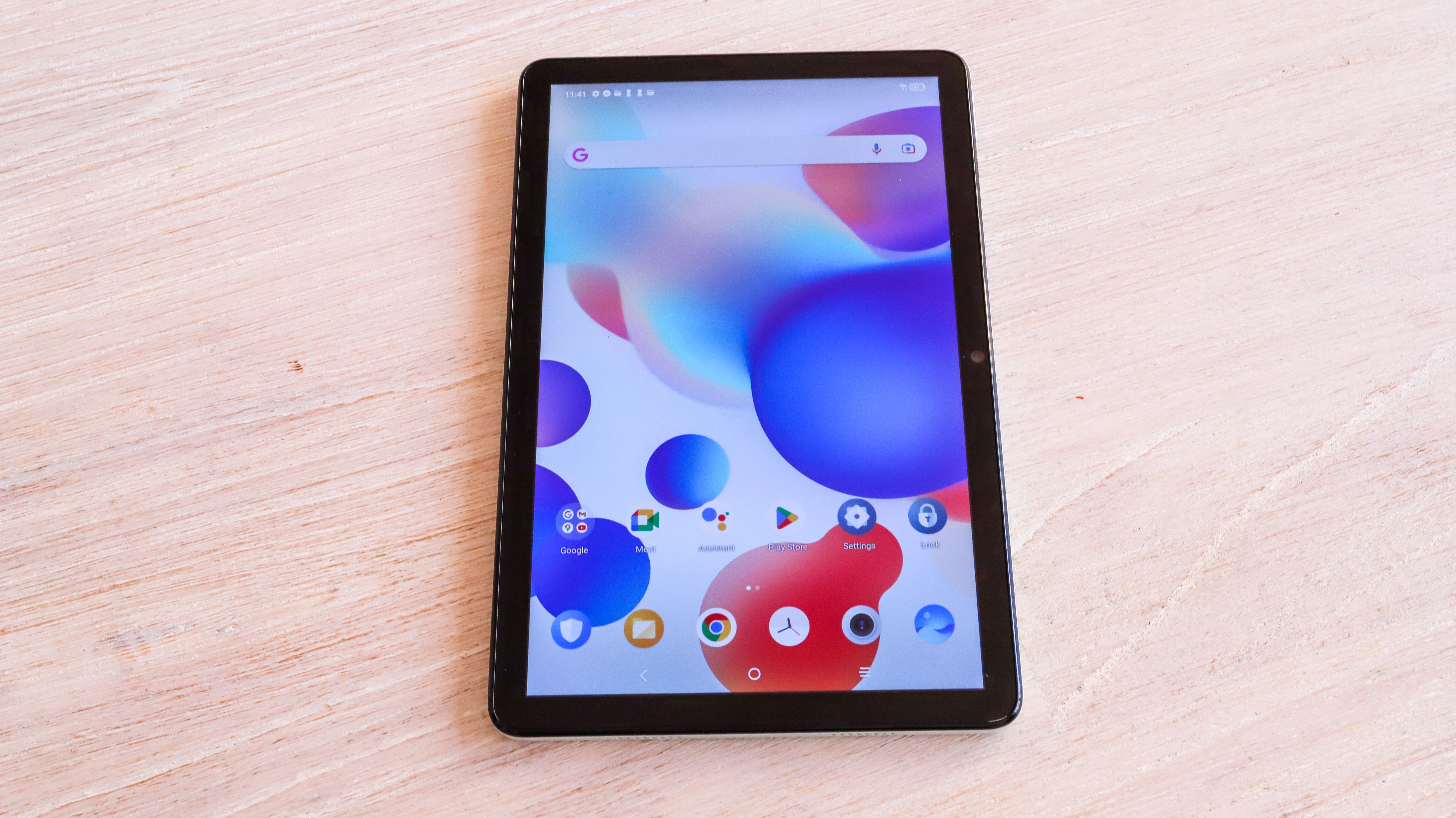 Should I buy the TCL Nxtpaper 10s?
Swipe to scroll horizontally
TCL Nxtpaper 10s report card

| Attributes | Notes | Rating |
| --- | --- | --- |
| Value | Its similarity to the Samsung Galaxy Tab A8 makes the price difference hard to justify, especially in regions that don't include the typecase. | 3/5 |
| Display | The multilayer screen filters out blue light making it better for the eyes, but it comes at the cost of sharpness. | 3/5 |
| Design | While the tablet is well designed, it won't sit flat on a table without a case or its keyboard folio. | 3.5/5 |
| Features | While its eye-care features are great and its PC Mode is useful, its camera quality is nothing to write home about. | 3.5/5 |
| Performance | The Nxtpaper 10s is packed with bloatware, but performs well with multiple apps open. | 4/5 |
| Battery | With speedy USB-C charging and up to 6 hours of battery life while streaming videos, the 8,000mAh battery is pretty impressive. | 4/5 |
Buy it if…
Don't buy it if…
Also consider
Not convinced by the TCL Nxtpaper 10s? Here's some other tablets at around the same price point to consider…
Swipe to scroll horizontally
| Header Cell – Column 0 | TCL Nxtpaper 10s | Samsung Galaxy Tab A8 | Apple iPad (2021) |
| --- | --- | --- | --- |
| Price | $399 / £275.59 / AU$499 | $329.99 / £219 / AU$379 | Starting at $329 / £369 / AU$549 |
| Storage | 64GB + expandable up to 256GB MicroSD | 64GB + expandable up to 1TB MicroSD | 64GB |
| Screen size | 10.1 inch | 10.5 inch | 10.2 inch |
| Chipset | MediaTek MT8768 | Unisoc Tiger T618 | A13 Bionic |
| Battery | 8,000mAh | 7,040mAh | 8,526mAh |
| OS | Android 11 (upgradable to Android 12) | Android 11 (upgradable to Android 13) | iPad OS 16 |
| Cameras | 8MP main, 5MP front | 8MP main, 5MP front | 8MP wide rear, 12MP ultra-wide front |
How I tested the TCL Nxtpaper 10s
I had this tablet for over two weeks and, during this time, I used it for a range of functions. My main usage was to make video calls and stream videos to see how well the TCL Nxtpaper 10s performed while running multiple applications. 
While testing, I also used it to make notes, switching between typing in PC Mode and writing with the stylus. I used a variety of apps on the device, including several streaming platforms and mobile games to see how well the tablet and its battery performed.
I've been using tablets since 2014 and have recently switched to reading on ereaders. Both types of devices provided a nice comparison for the TCL Nxtpaper 10s. Additionally, price is also an important factor for me, as I want to find the best bang for my buck, especially when it comes to devices suitable for students who are on a tighter budget.
Read more about how we test
[First reviewed March 2023]