Seattle Coffee Gear Diletta Bello: One-minute review
The Seattle Coffee Gear Diletta Bello espresso machine isn't a typical espresso machine that most people use in their homes, and you'll know that as soon as you take it out of the box. There are no buttons here to push, no dials for programming settings. This, my friends, is a next-level espresso machine, not quite an industrial-grade one you expect to see at coffee shops but more elevated than that automatic one you've got at home.
Most of the things you do on it are manual. Want your shot of espresso? You have to operate a lever and know when to stop the pour. Want frothy milk? You have to get used to turning a knob all the way then quickly shutting it down before your froth spills over. So, I can't really blame anyone if they took one look at the Diletta Bello and ran the other way.
But, while many of the best espresso machines make it easier for users these days, I found that there is a steep learning curve with this particular machine, although it took me less than a day to see its appeal (and learn its ways). As a coffee enthusiast, I do appreciate a smooth cup of thoughtfully-crafted coffee that greets you every day like it's a lazy Sunday morning – even on days when it feels like I do not have the time. 
I also appreciate the meditative process it takes to make one on this machine. It takes focus away from the necessity of brewing coffee – contrary to the best coffee makers being items of convenience – and shifts it back to the craft by slowing you down a little.
And, here's the thing: as intimidating as the Seattle Coffee Gear Diletta Bello looks, it's also incredibly accessible and easy for neophyte espresso machine users to use. Experienced or not, I would recommend it to most people… or at least those who are willing to pay the price.
Seattle Coffee Gear Diletta Bello review: Price & availability
List price: $1,699
Unavailable outside the US
Despite being handcrafted in Milan, Italy, the Seattle Coffee Gear Diletta Bello is only available for purchase on the Seattle Coffee Gear website (opens in new tab) to US customers. That's because the company only currently ships to the US (all 50 states) – which is understandable considering that the machine comes packaged in a thick and sizable protective case similar to what photography and filmmaking gear come in.
To get one yourself, you do have to pay a hefty price of $1,699 for the kit that includes baskets and portafilters. Considering there are pricier espresso machines for consumers, I'd consider this one a higher mid-range entry – although it also doesn't come with its own bean grinder, which means you'll have to spend more if you don't own one already.
The specs of our Seattle Coffee Gear Diletta Bello review unit
Price: $1,699
Type of coffee maker: Manual espresso machine
Skill level: Intermediate
Programming: None
Brew time: 30 sec
Boiler volume: 1.8L
Reservoir size: 3L
Material: Stainless Steel
Dimensions: 11 x 17.75 x 14.5 inches
Seattle Coffee Gear Diletta Bello review: Design
Manual controls
Elegant minimalist design
Pretty big so it takes up space
As I mentioned above, the Seattle Coffee Gear Diletta Bello is devoid of any buttons, taking an all-manual approach to brewing and steaming. So, if you're hoping to just press buttons and let the machine do all the work for you, you definitely won't be getting what you want. Not that you should let that affect your decision about getting this machine, however, as the manual controls just look deceptively complicated.
In actuality, things are pretty simple here. You turn the power switch on, wait a few minutes until it reaches the desired operating pressure, which you can check using the decently sized pressure gauge, twist your grounds-filled portafilter in place, lift the brew level to brew and pour, and lower it back down to stop. Really the only thing that's different here is that instead of a button, you operate a lever.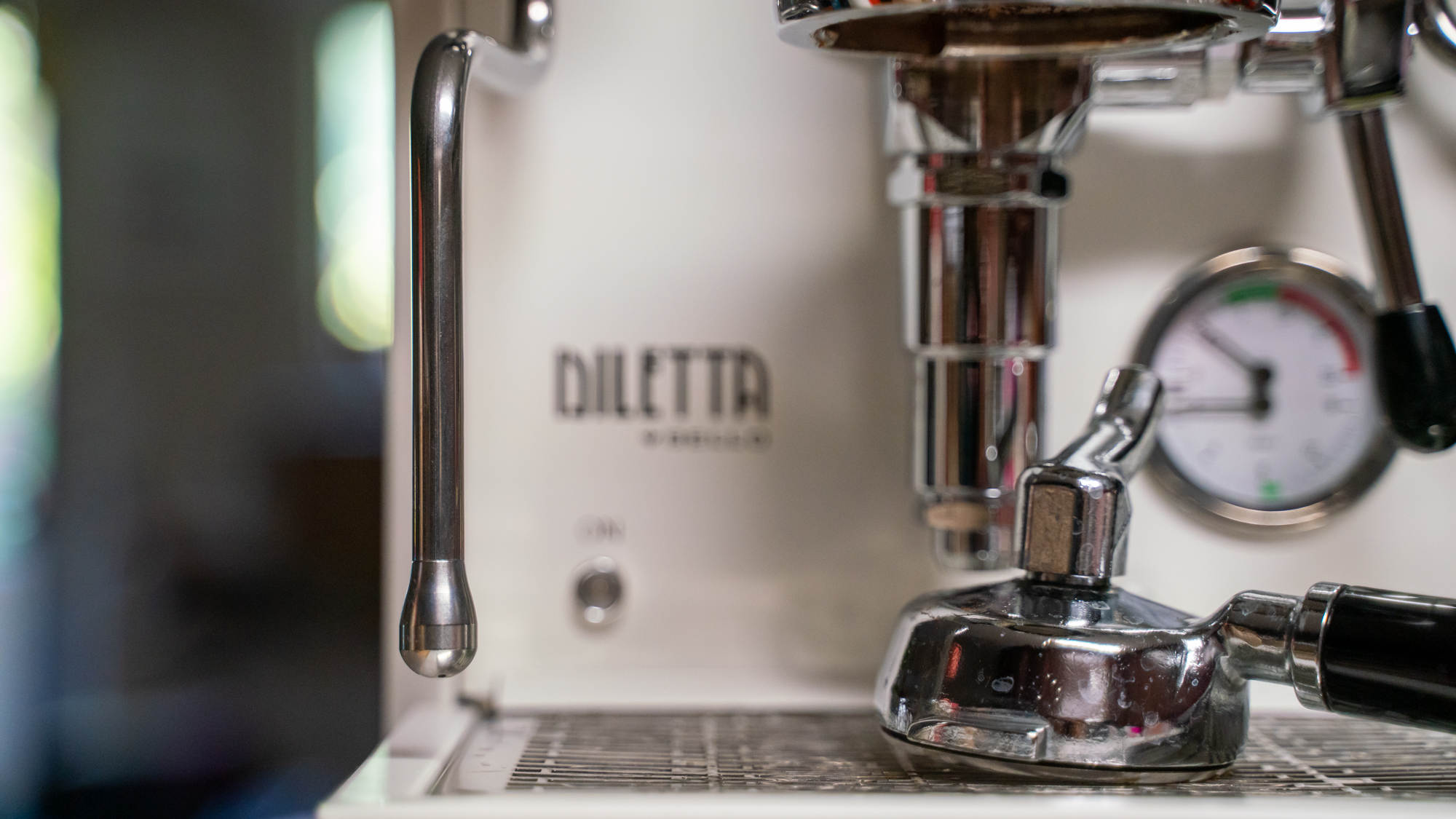 Steaming milk is similar in that instead of pressing a button, you're turning a knob all the way to the left to steam and foam then turning it all the way to the right to close. This is the trickier part here, as you do have to find the right speed when you're turning the knob. It took me about three days to kind of get comfortable with using it, but that's only because I was being too careful. As soon as I got used to it, operating it felt like second nature.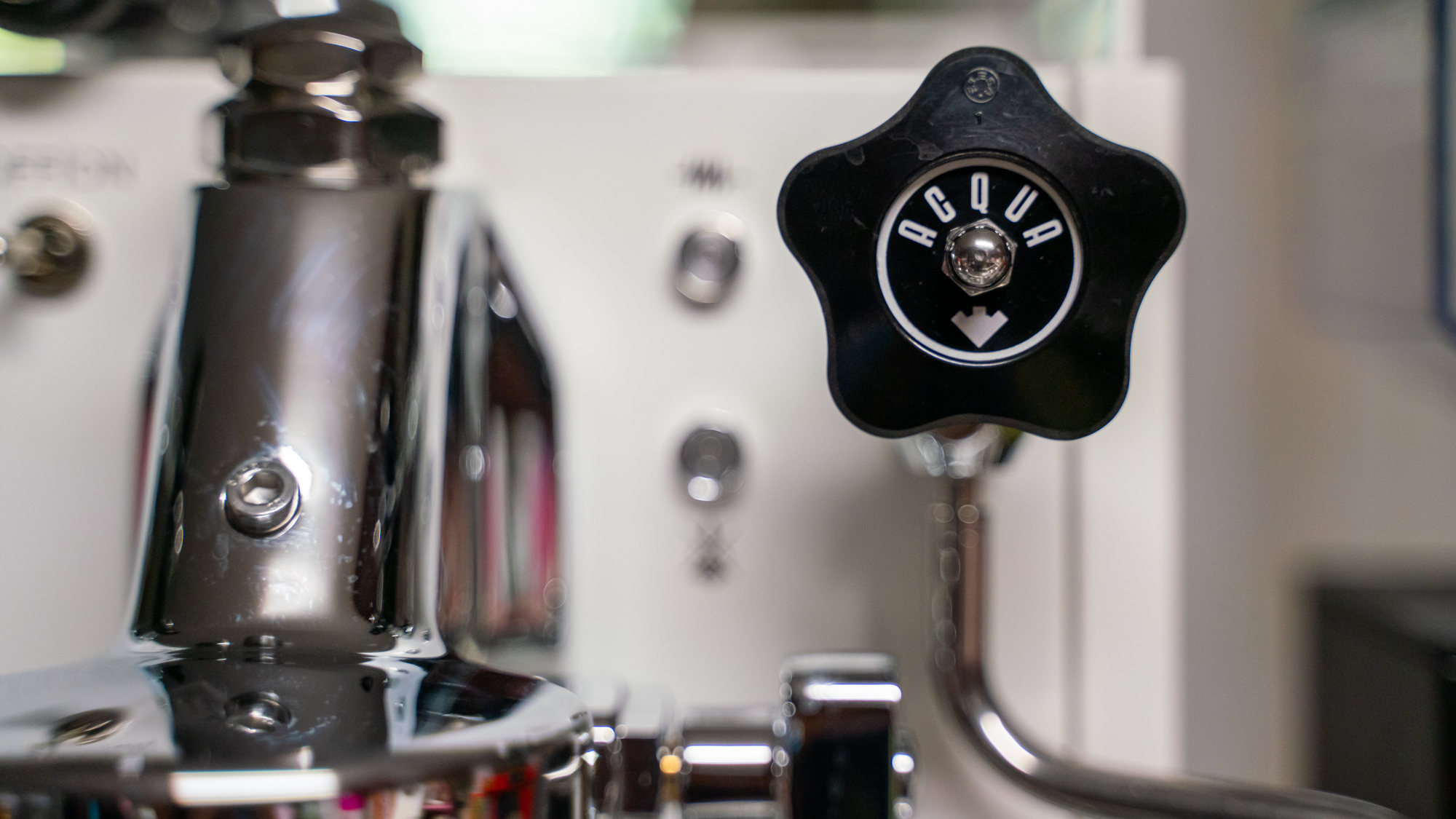 There is a hot water dispenser on the other side of the brew group that looks very similar to the steam wand in look and operation, except it actually dispenses hot water instead of heating up what's in your cup. There is also a cup warmer on top next to the water tank opening. Both are pretty neat additions to an already impressive machine. Sadly, however, you have to invest in a stand-alone coffee bean grinder, as it doesn't come with one.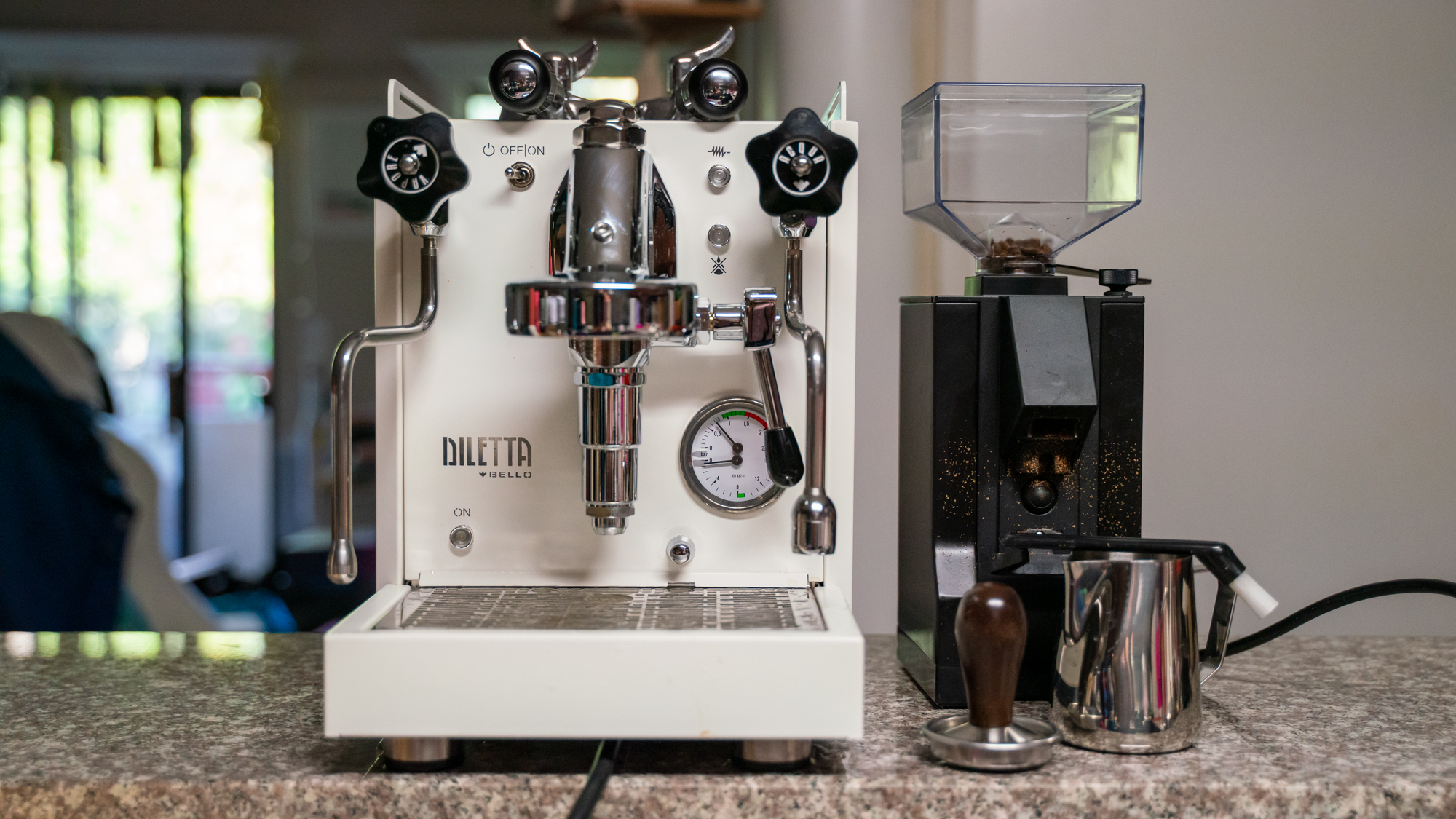 Just like its old-school approach to its controls, the Diletta Bello also comes with a retro-esque design, as if SCG took inspiration from vintage espresso machines and modernized it. That, I think, allows it to look elegant and nostalgic yet minimalist at the same time, especially if you go for the white colorway (it also comes in black and stainless steel). 
Unfortunately, just like other old espresso machines, it also takes up a bit of space at 11 x 17.75 x 14.5 inches and is considerably heavy. So, you better make sure that you've got plenty of counterspace, lest risk cluttering your kitchen or losing precious countertop space.
Seattle Coffee Gear Diletta Bello review: Performance
Takes 13 minutes to warm up
Smooth brews
Steam wand takes practice to use
The biggest downside to the Seattle Coffee Gear Diletta Bello is that it's not for fast brewing. It takes 13 minutes to warm up – meaning getting the pressure gauge needle up between 1 and 1.5  – though in my experience, it delivers stronger and richer brews better after the indicator light on the top right turns green. This means that you have to get into the habit of turning it on first thing in the morning, before you shower and go about your morning routine. 
However, here's the thing I've noticed from using the Diletta Bello for three weeks: it's only the warm-up that takes time. Once you get the process down to a T, from brewing to steaming and foaming your milk, it actually doesn't take that much longer than making a cup from a concentrate (if you were to also heat up your milk in the microwave then foam it using a frother). 
It's also less tedious than using a french press, which is much more annoying to clean. And, the fact that it's got a 3L water tank means that you only need to refill every five to seven days, depending on how much coffee you're consuming.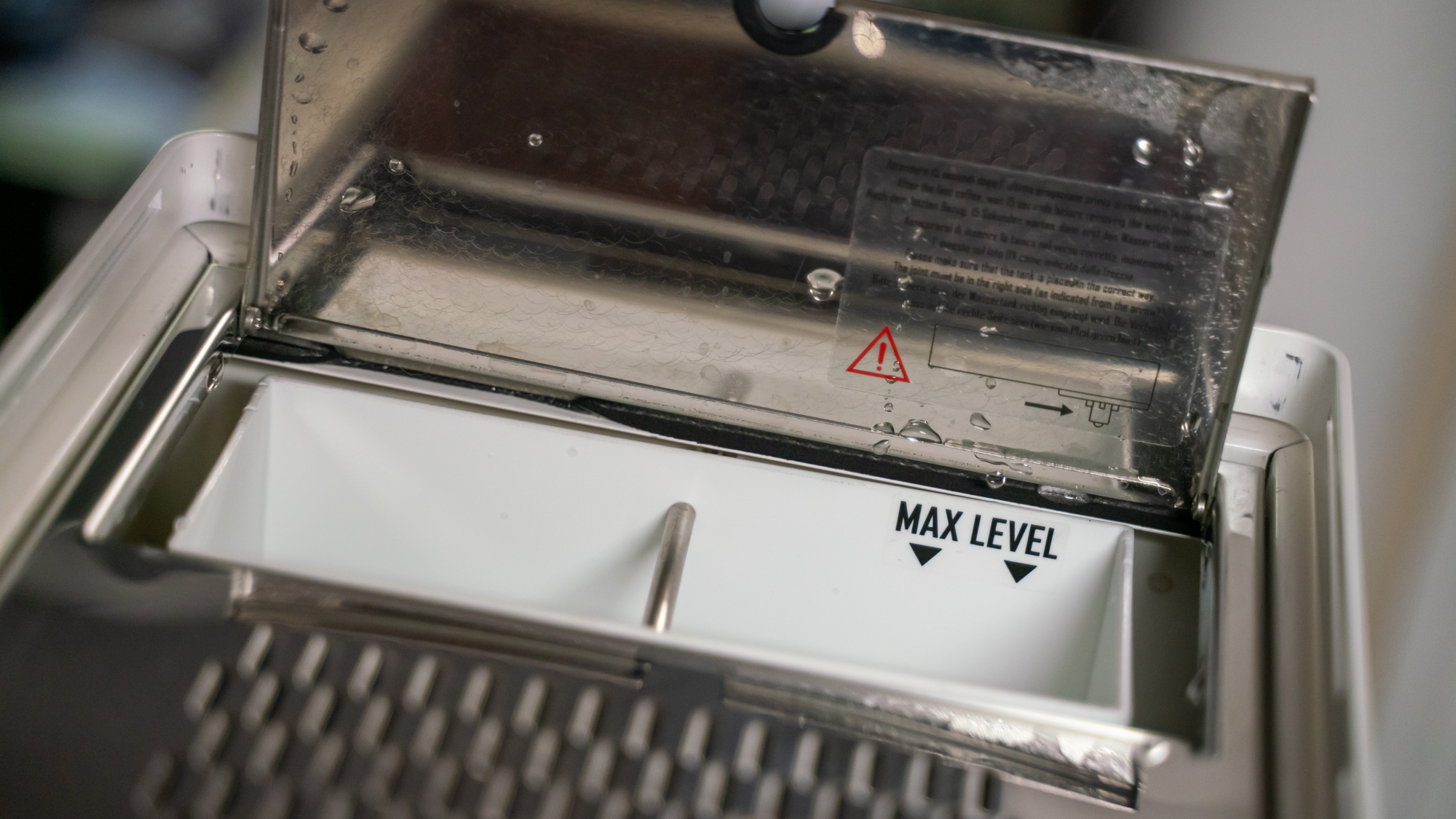 It also makes much smoother cups of coffee. I typically use a french press and concentrated coffee as they're much more convenient for me, but I could really tell the difference between those and a cup made from the espresso shots I get from Diletta Bello. The shots also come out piping hot so I make sure to pour every single one into a bigger cup as quickly as possible. Otherwise, the shot glass tends to get too hot to handle bare-handed.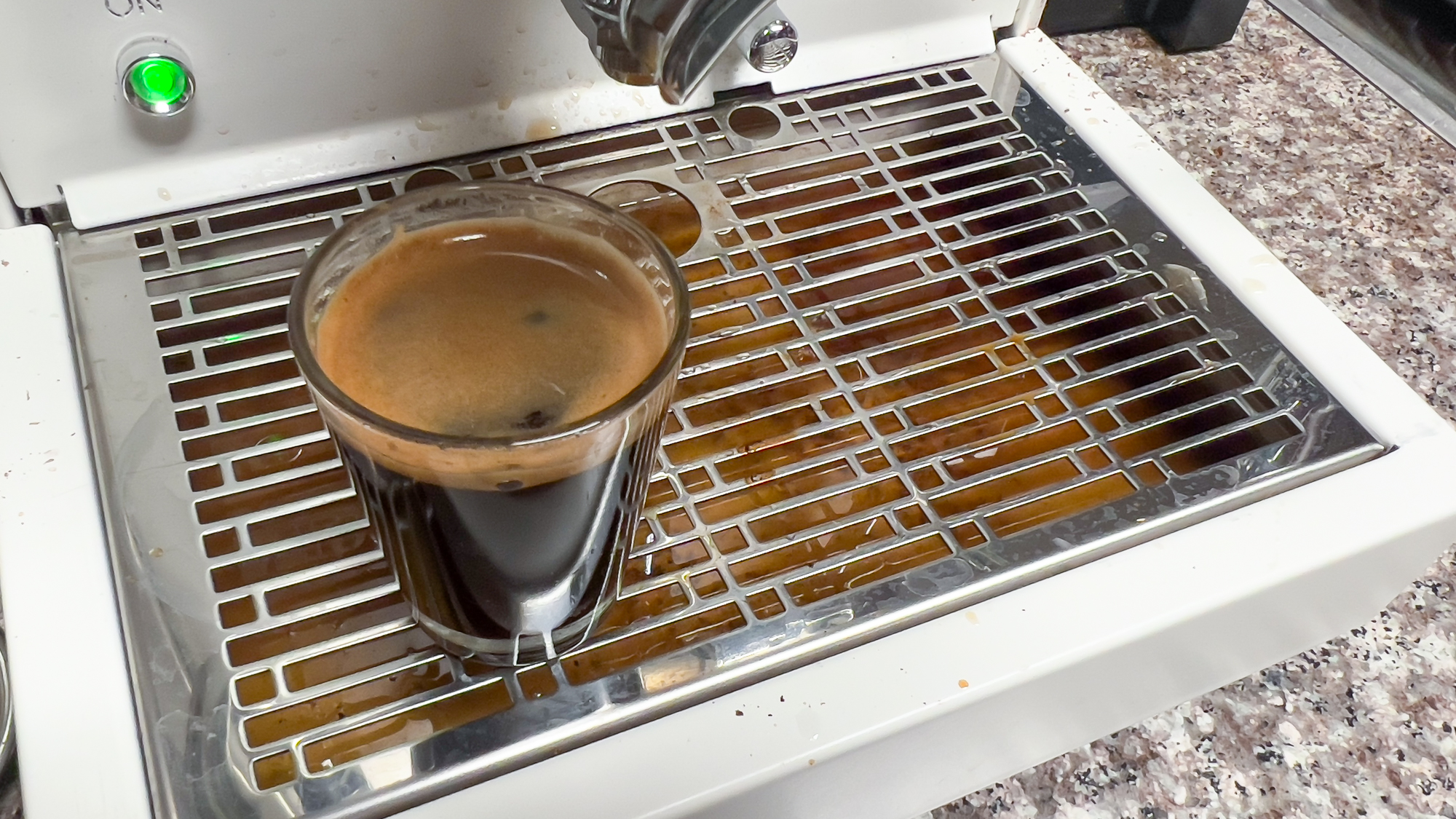 The steam wand does take practice and patience to use. It doesn't function like a stand alone frother, which typically just whips the milk. There is a trick to it – I'd explain it here but you're better off watching YouTube video tutorials – and you definitely have to practice to get it right. Also, different types of milk froth differently. I prefer oat milk, which tends to froth thinner, so I had to practice a lot and try different techniques for days to get this part down to a science.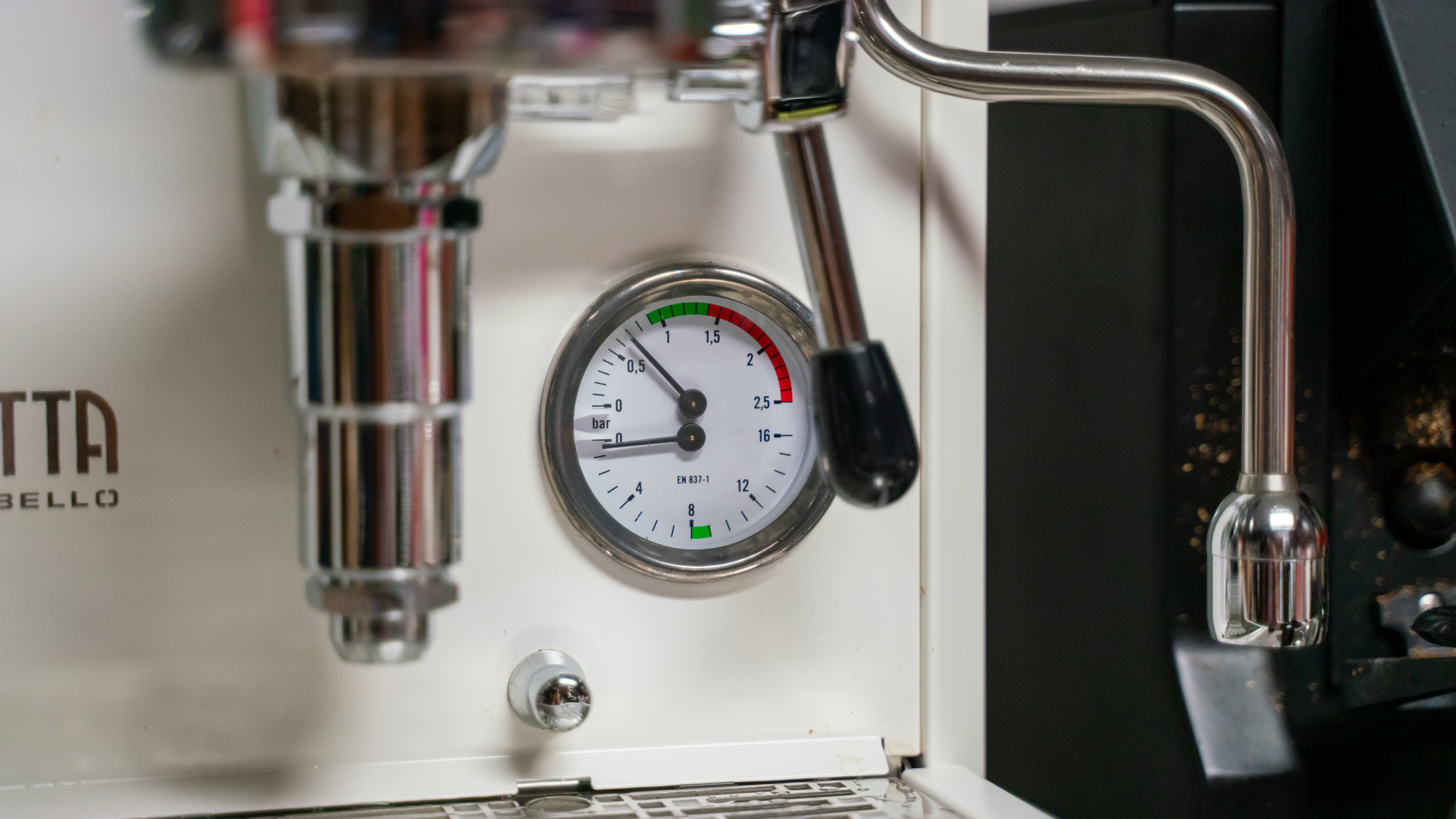 The thing I had trouble really getting used to here is the fact it takes several turns to get the steam knob fully open and the wand itself can get pretty loud, which can be intimidating. Also you have to be quick enough to close the knob so that the foam doesn't spill over, but not too quick that you're stunting your foam.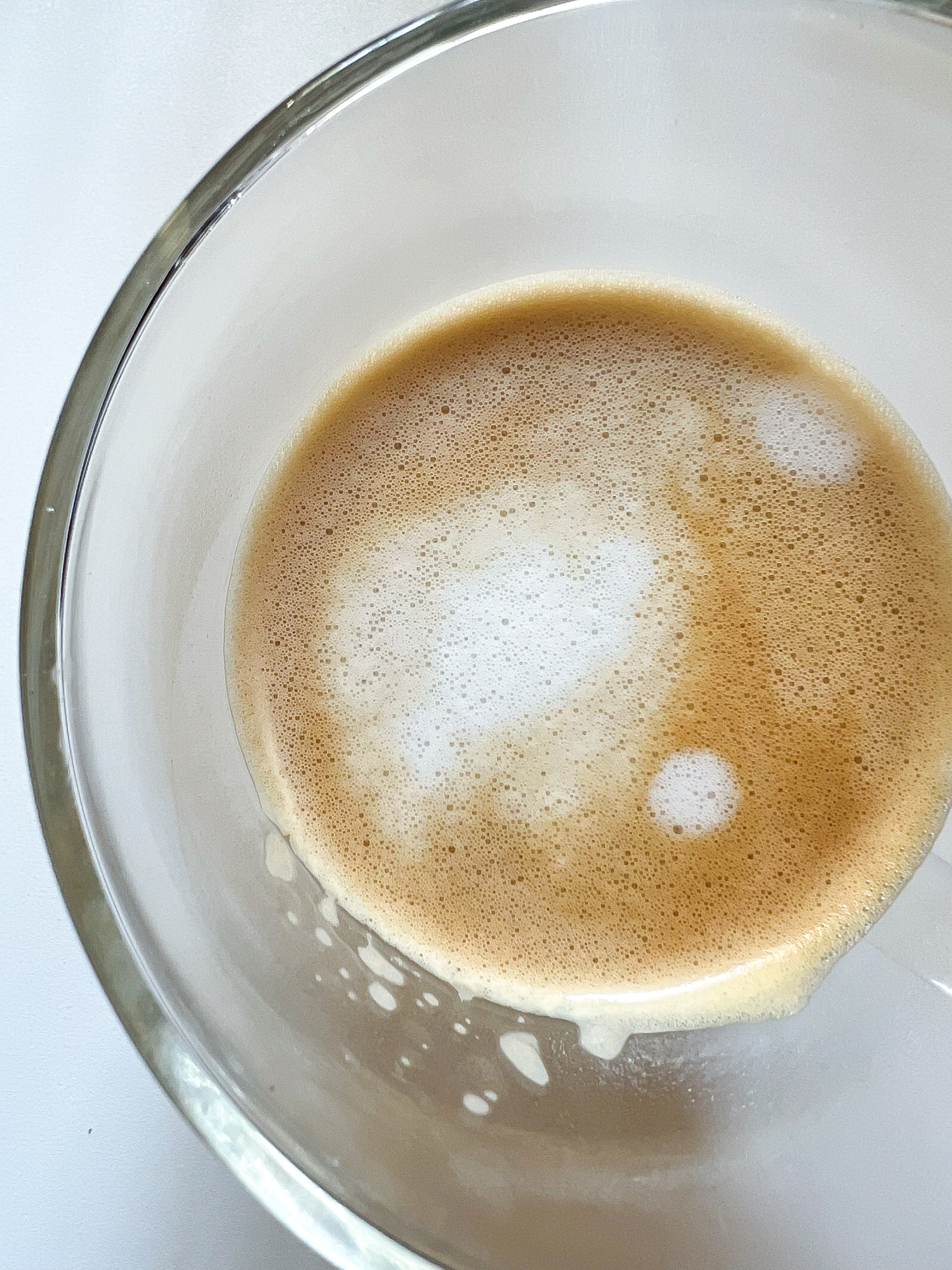 Once I got the hang of it, however, it felt like second nature. So, do not be discouraged if you haven't used a steam wand before and are just not getting cafe-worthy foam out of your milk on your first few days. Just have lots of patience and maybe stock up on milk. Plus, it's a fun challenge to do before you can progress over to making coffee foam art.
The Diletta Bello may be minimalist, but it does come with two extra yet very handy features – a hot water wand that dispenses hot water for your tea and other hot drinks, and a cup warmer on top so you can warm up your cup while you're making a fresh brew. Both are useful and work incredibly well, as with everything else on the machine.
Should I buy the Seattle Coffee Gear Diletta Bello?
Swipe to scroll horizontally
Seattle Coffee Gear Diletta Bello

| Attribute | Notes | Score |
| --- | --- | --- |
| Value | The Seattle Coffee Gear Diletta Bello isn't cheap, but it isn't the priciest I've seen either. I'd rank this one in the higher mid-range. | 4.5 / 5 |
| Design | It's a gorgeous machine with retro aesthetics combined with modern vibes. It also comes with nice extra features. | 4.5 / 5 |
| Performance | It's an excellent machine that brews perfectly smooth and rich espresso shots. It also makes amazing milk foam. | 5 / 5 |
Buy it if…
Don't buy it if…
Also consider
Swipe to scroll horizontally
| | Seattle Coffee Gear Diletta Bello | KitchenAid Artisan Espresso Machine KES6503 | Gaggia Classic |
| --- | --- | --- | --- |
| Price: | $1,699 | £449 / $499.99 | $449 / £459 / AU$899 |
| Type of coffee maker: | Manual espresso machine | Semi-Automatic espresso machine | Semi-Automatic espresso machine |
| Skill level: | Intermediate | Beginner | Beginner |
| Programming: | None | None | Customize coffee strength and volume |
| Brew time: | 30 sec | 30 sec | 23 sec |
| Boiler volume: | 1.8L | Not provided | Not provided |
| Reservoir size: | 3L | 1.4L | 2.1L |
| Material: | Stainless Steel | Stainless Steel | Chromed brass and stainless steel |
| Dimensions: | 11 x 17.75 x 14.5 inches | 6.38 x 13.15 x 11.26 inches | 9.05 X 14.96 X 9.44 inches |
If you would like an espresso machine but prefer a machine which is not a staff pick by the SCG team (as all the above), here a couple of options to consider.
How I tested the Seattle Coffee Gear Diletta Bello
Tested daily over a two-week period
Used both single and double portafilters
Experimented with steam wand and tested hot water wand
The great thing about testing espresso makers is that we get to enjoy premium espresso shots and coffee drinks every single day without needing to spend money. And, so I did, using the Seattle Coffee Gear Diletta Bello first thing every morning and topping my energy off in the early afternoon. I did that every day for a little over two weeks. It must have been the most delicious testing process I've ever done.
Testing the steam wand was even more fun. As I'm used to frothers, which are much easier to use, mastering milk foam took a few days and lots of practice. I used both oat and 2% fat milk as well.
Naturally, I also tested the hot water wand and the cup warmer as well as noting how long it took for the machine warm up, brew a shot, and finish its water reservoir tank.
Read more about how we test
First reviewed February 2023