Corsair K70 RGB OPX: One-minute review
The Corsair K70 RGB OPX can easily be considered one of the best gaming keyboards for its price and overall performance. It's a full-size board, complete with 105 keys and a dedicated media bar that plugs in through USB-C. 
Unlike some mechanical gaming keyboards, this version of the K70 opts for proprietary microswitches, which use a hybrid of mechanical and optical for a lightweight feel that's quieter than standard switches and far more accurate than membrane. 
With its high polling rate and Doubleshot keycaps, there's a premium feel to the Corsair K70 RGB OPX for its sub-$200 / £200 / AU$300 price point. It performs above its station as a gaming keyboard that looks a little different and feels substantially better than many others I've used over the years for a similar rate. 
Corsair K70 RGB OPX: Price and Availability
How much does it cost?  $179.99 / £179.99 / AU$299
When is it available? Available now
Where can you get it? Available in the US, the UK, and Australia
Corsair K70 Pro RGB OPX: Specs
Layout: Full
Switch: Proprietary Corsair  
Programmable keys: Yes
Dimensions: 440 x 166 x 40 mm
RGB or backlighting: Yes
The Corsair K70 Pro RGB OPX gaming keyboard aligns itself somewhere in the middle of Corsair's gaming keyboard range. At $179.99 / £179.99 / AU$299, it's far from one of the best budget gaming keyboards but isn't quite as expensive as the flagship models such as the Corsair K100 RGB, which retails around 20% more.
If you're solely interested in one of the best mechanical gaming keyboards then you may want to turn your attention to the similarly priced Corsair K70 RGB Pro, which is available with the standard click-clack you would hope for. The closest possible competitor for the Corsair K70 Pro RGB OPX would be the Razer Huntsman V2, which is available with a similar optical-mechanical setup for around $10 / £10 / AU$20 more.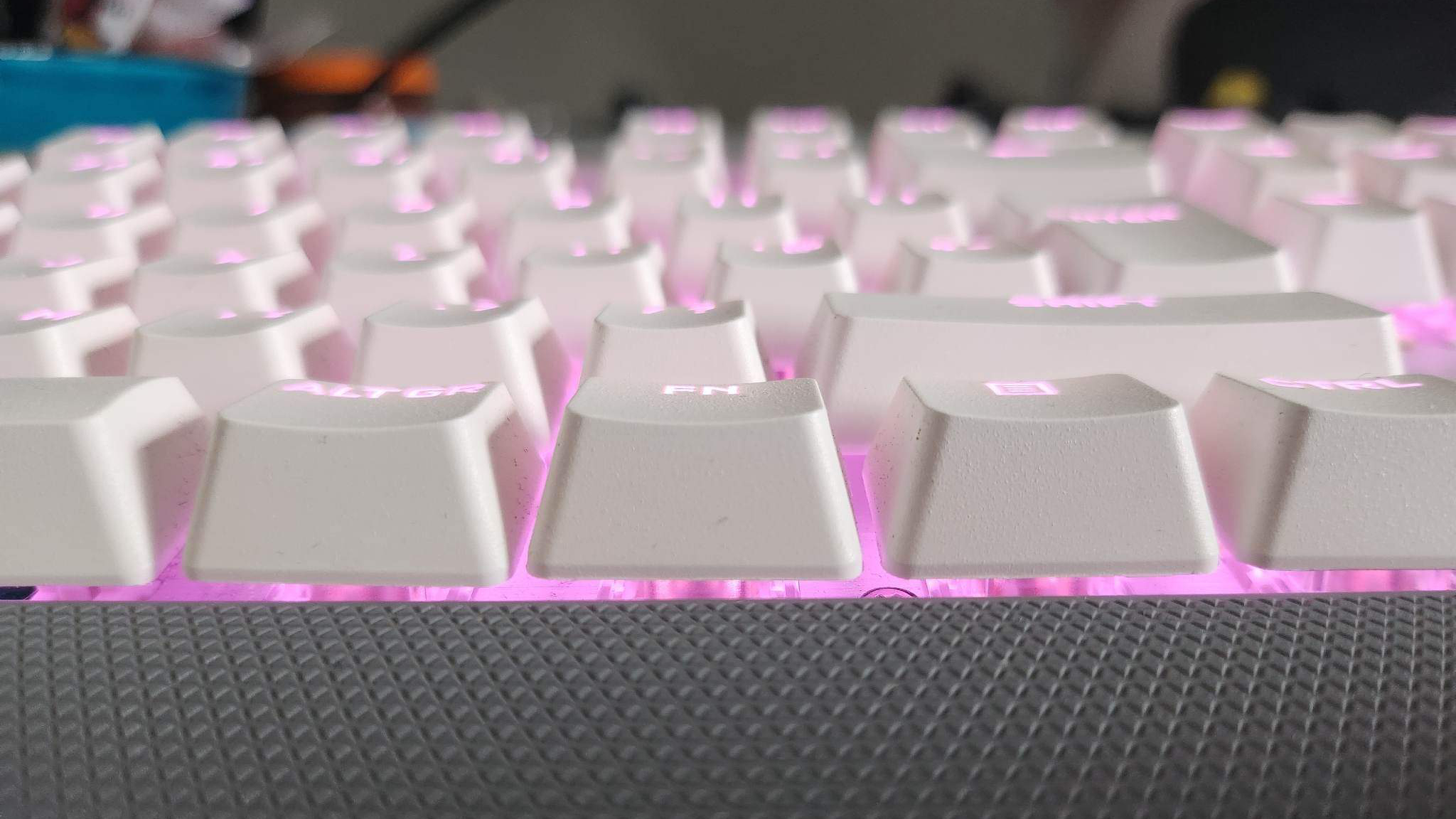 Corsair K70 RGB OPX: Design
Available in black and white 
Comes with a dedicated wrist rest 
PBT DOUBLE SHOT PRO Keycaps
My particular Corsair K70 RGB OPX review unit came in the white colorway that certainly stands out from the sea of black gaming keyboards available. It's a full-size gaming keyboard with a dedicated media roller as well as media keys on the top right. As expected, there's iCue RGB lighting that can be dimmed with a specific button to be as bright as you like when gaming. 
The aluminum frame is one of the stronger-feeling backboards so you should be catered to here if you're a particularly heavy typer or like to pound the keys when playing games. The keyboard connects through a braided USB-C cable, which doesn't drag or pull. 
The Corsair K70 RGB OPX has an 8,000Hz polling rate with Full-key anti-ghosting for smooth rollover. The brand describes its proprietary switches as "hyper fast key switches" that are unique to the board. There's an actuation distance of just 1mm and 150 million guaranteed keystrokes on the PBT Doubleshot Pro keycaps. 
There's also a generously sized magnetic wrist rest in the matching white colorway. 
Corsair K70 RGB OPX: Performance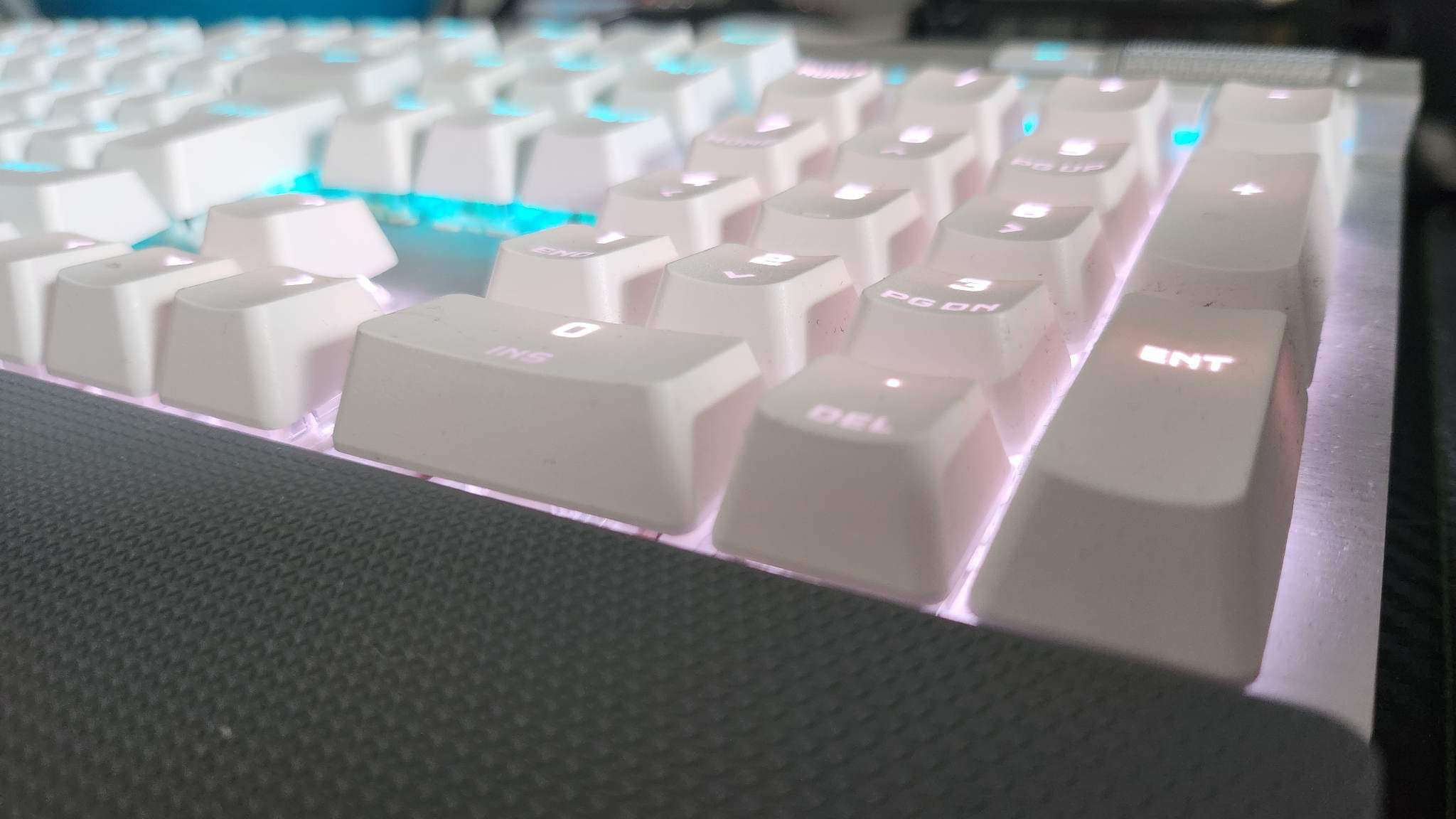 Quiet operation 
8,000 Hz polling rate 
Dedicated media bar 
I've been using the Corsair K70 RGB OPX as my main keyboard for work and gaming for around three months now. As my first experience with an optical-mechanical keyboard, after previously being dedicated to the Razer BlackWidow V3 Mini, the initial difference in feel took a while to get accustomed to. 
You're getting the same level of precision and satisfaction with key presses, but losing the riotous thunder of a firm and tactile clickiness. If you want to keep your noise levels down when working, you'll love how this gaming keyboard feels. 
Gaming on the Corsair K70 RGB OPX feels great. Over the summer and winter months, I've played everything from Battlefield 2042 and Overwatch 2 to Cruelty Squad for my FPS fix. As someone who writes professionally for a living, having a high-end keyboard with satisfying action without the noise has been instrumental, and the hundreds of articles I've written with it are a testament to that. 
It's going to be difficult to return to a regular mechanical gaming keyboard, even when previously yellow and green switches were my ride-or-die for the better part of a decade. 
Should I buy the Corsair K70 RGB OPX?
Buy if… 
Don't buy if… 
Corsair K70 Pro RGB OPX: Report card
Swipe to scroll horizontally
| | | |
| --- | --- | --- |
| Value | The Corsair K70 Pro RGB OPX isn't the priciest gaming keyboard around but it's by no means a budget one. | 4 / 5 |
| Design | Whether you go for black or white, the Corsair K70 Pro RGB OPX looks and feels exceptional | 4.5 / 5 |
| Performance | This is an incredibly satisfying gaming keyboard for just about anything you throw at it | 5 / 5 |
| Total | It's not cheap, but the Corsair K70 Pro RGB OPX is one of the best gaming keyboards around. | 4.5 / 5 |
First reviewed February 2023
How I tested the Corsair K70 Pro RGB OPX
I've been using Corsair K70 Pro RGB OPX as my main gaming keyboard since September 2022. In that time, I've played a vast array of different games and also written over a hundred articles with it, too. 
Read more about how we test